A specific CALLAS
Proof-of-Concept
targeted affective edutainment applied to an entertainment experience for young audiences, featuring an interactive, assisted  classic music composition system. Referred to as
MusicKiosk
, this is a museum installation offering children and adults the experience of building musical stories based on their emotional expressions. The goal is to prototype a publicly accessible application for users of all ages exploring how emotional reactions can be converted into a musical performance. See
poster
.
The full "Concerto Storico" story is supporting the Proof-of-Concept, based on Paola Pacetti's (Director of the Children's Museum of Palazzo Vecchio, Firenze, Italy) concept. The system experiments natural interaction and the capacity to create emotional feedback loops to engage the young through interaction and reaction. Refence articles and suggested reading are:
Affective Interface Adaptations in the Musickiosk Interactive Entertainment Applications: Abstract
MusicKiosk: When listeners become composers. An exploration into affective, interactive music: Abstract
The architecture and aim of MusicKiosk are outlined in
CALLAS Newsletters
and was presented in a poster session held in Sapporo, Japan during
ICMPC10
. Also illustrated at the prestigious Music Museum of  Accademia Nazionale di Santa Cecilia during
CIMCIM'09
, MusicKiosk has proven to be of a great interest for music museums' stakeholders. Watch the video of MusicKiosk
here
.
The installation presents an audio-visual story, where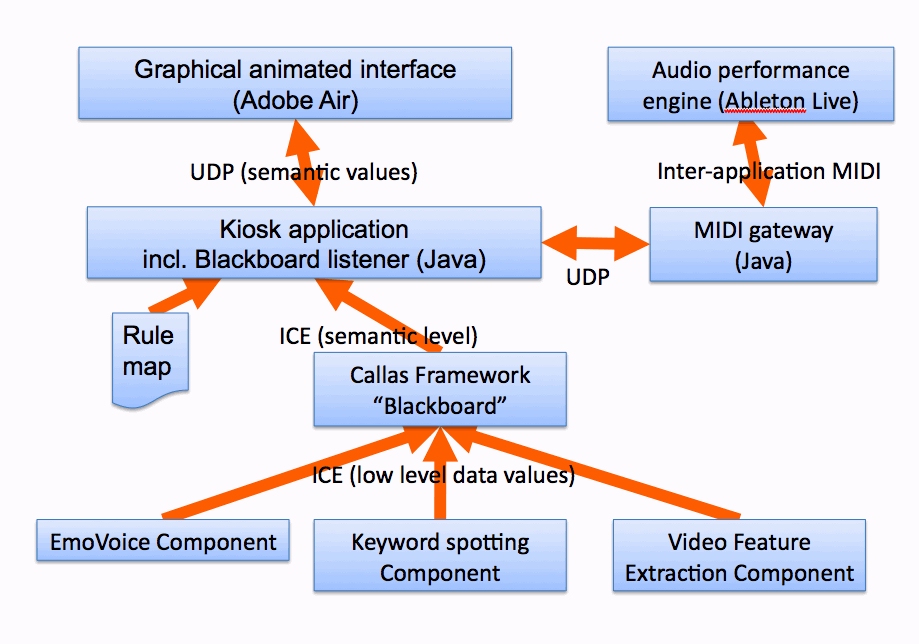 simultaneously animated characters, affected by the emotional input, are displayed in a screen playing and reacting to the score.The system creates a composition based on the emotional states detected from users' voices, augmenting the experience by visualizing the music with interactive, animated characters.
Emotions detected from face and speech are captured and than fused through the CALLAS
Framework
  according to the dimensions of a
PAD
model, the status representing/estimating the user's emotional state is then rendered in output through music with the
Affective Music Synthesis
  component, which also indicates which of the there different rooms in the kiosk is active at a given point in time, so that relevant instrumentation is employed in the music synthesis process.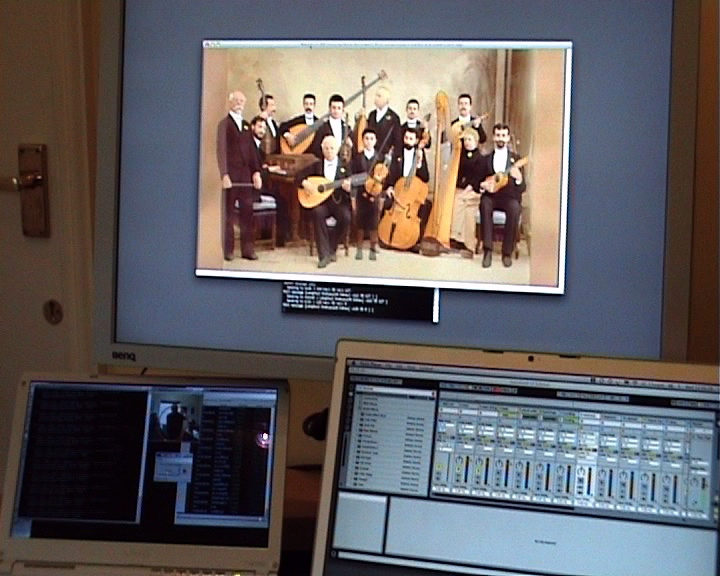 Custom-made musical elements can be dynamically added or removed, according to the mood, detected  from the fusion of
Real-time emotion recognition from speech
, 
Multi Keyword Spotting
and 
Video-Based Gesture Expressivity Features Extraction.