Digital Video is a
member of CALLAS
. Based in Rome, Italy, Digital Video has made the development of the Toonz software package its mission, and Toonz has become a world leader in cartoon animation applications.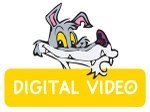 Toonz latest release,
Toonz Harlequin
,  was born from Digital Video's experience and knowledge of traditional animation to meet the evolution of animation creative and technical standards. Toonz Harlequin integrates vector drawings in its traditional workflow based on raster drawings to allow you to step into paperless animation
Another step in this direction is
Toonz Bravo!
,  a software that includes all the professional features of a 2D animation software and yet it is a cost-effective solution for studios willing to produce paperless animation. Digital Video also develops a product line for web animation and broadcast,
the TAB
,  that is a perfect fit for web animators and for Flash users willing to enrich the animation contents of their work. The line includes
the TAB Kids
,  that allows any kid to create animations and cartoons with amazing results, thanks to an user-friendly interface based on icons and buttons. Further to Toonz and the TAB, Digital Video has developed
other products
  for the animation industry:
LineTest that offers a low cost solution for pencil testing.
Scintillae, a powerful yet easy to use Particles & Fx generator.
Toonz 3D Export plug-in to SI|XSI and SI|3D that allows camera data to be exported directly from SI|XSI or SI|3D to Toonz.
The list of professional companies currently using Toonz is enormous, as the installed Toonz base is well over 2,500 seats. The Digital Video products are successfully used to produce hours of animation per day for film, television and multimedia.
Contact:
Francesco A. Danza
Website: 
www.toonz.com